In this second part of my review of last year's boating (mis)adventures, things go wrong pretty much straight away and it slowly dawns that anything vaguely resembling a plan is going out of the window. The first part can be seen here.
After a few days away, I returned to Saltisford, on the outskirts of Warwick. I'd booked a week away from work to get myself down the Grand Union. It was 4th May, and for once I'd actually allowed myself enough time to make it down to the HNBC gathering in Limehouse at the end of the month. Canalplan told me it was 128 miles and 127 locks, so around 10 full days boating.
I winded and headed away after lunch. At the first Cape lock, just 15 minutes after setting off, it started to rain. I ducked inside the boat to grab my wet weather gear.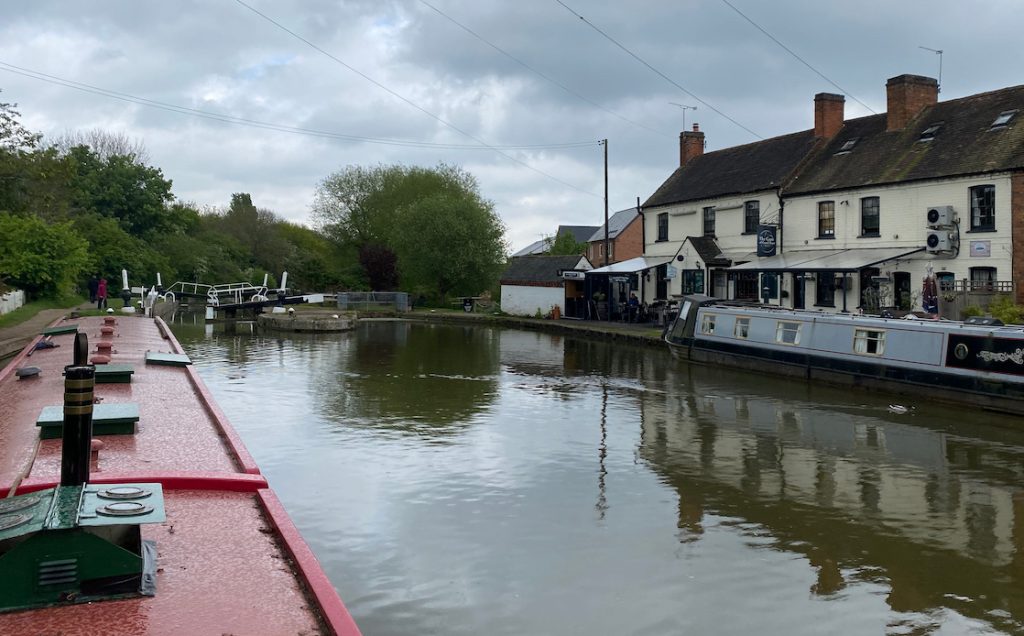 The offside top gate had partially opened itself as I slid past. As I pushed it closed my feet went from underneath me on the wet surface. I put my hand out to break my fall but landed with the bottom of my spine exactly on one of the brick foot grips. I don't recall what word I used but I do remember that it hurt. It REALLY hurt!
After a pause of maybe 15 minutes to regain my composure and make sure that I'd not actually broken anything I carried on. Walking was quite uncomfortable but I knew that after these two locks there was a break of an hour and a half before I had to do any more, and standing was OK. At the second lock I added insult to injury by bashing my knee on the balance beam as I stepped off one of the gates. Really not a great start!
At Radford locks I paired up with another single-hander. I tied the boats together and was able to work them through and between locks as he set the next lock ahead and opened the bottom gates.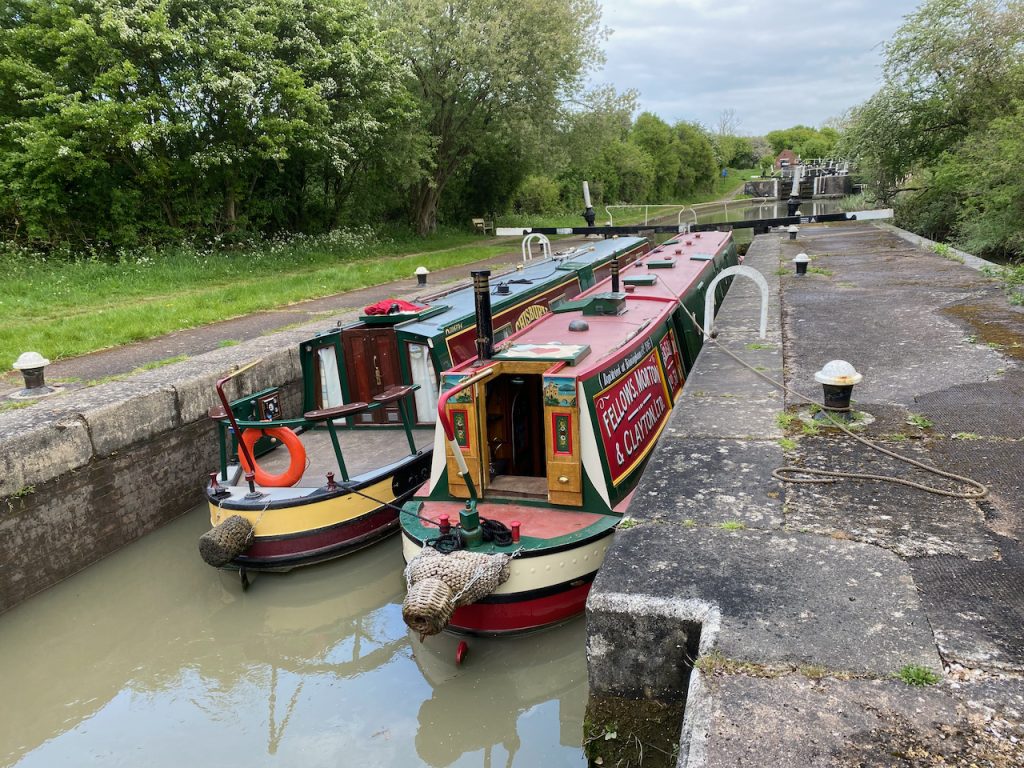 He was pressing on to Napton that evening, but I really wasn't feeling up a late finish so called it a day above Bascote Staircase Locks.
After an early night and a lazy morning I was back on the move. Still a little sore but standing was easier than sitting so I decided to carry on. I met a couple going up Stockton Locks and there were also a number of CRT vols around, so I barely set foot off the boat all the way up the flight.
I made it to Braunston just before 7pm. The evening sun made it all too tempting to carry on so I headed up the locks and through the tunnel, finally tying up as it was going dark half a mile further on.
The following day I had a late start, as i had a few jobs to do. I moved down part way down Buckby Locks, moored up and headed back to Warwick to pick up my car. I do a lot of boat/car/train shuffles and this one was a bad call. A long walk to Long Buckby station, rubbish train connections then another long walk (in the dark) in Warwick. Finally, parking in Long Buckby is all but non-existent.
By now I was far enough south that my sister could come out to play. She had car shuffled with a friend/neighbour so they joined at the bottom of Buckby locks for a couple of hours, then returned in the afternoon for the Blisworth and Stoke Bruerne section. I carried on and tied up in the countryside half way along the pound to Cosgrove.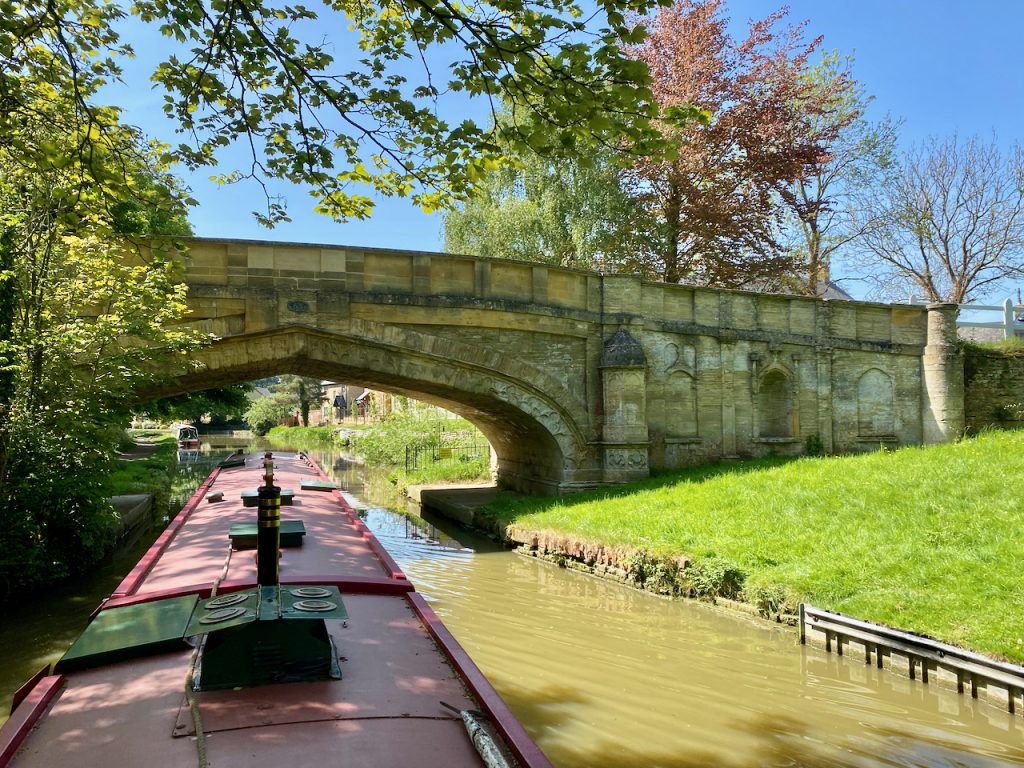 The next stop – and another car shuffle – was Wolverton. Here the canal and railway are right next to each other. Parking isn't brilliant but it was fine overnight and the next morning I dropped the car further ahead at Bletchley (free parking by the station.)
Jane and Steve joined again through Milton Keynes. This section is fascinating because of all the new development, but it was also good to see the junction for the Bedford & Milton Keynes Waterway marked up.
At Fenny Statford I said goodbye to my visitors for the last time on this part of the trip as I was now heading well south of them.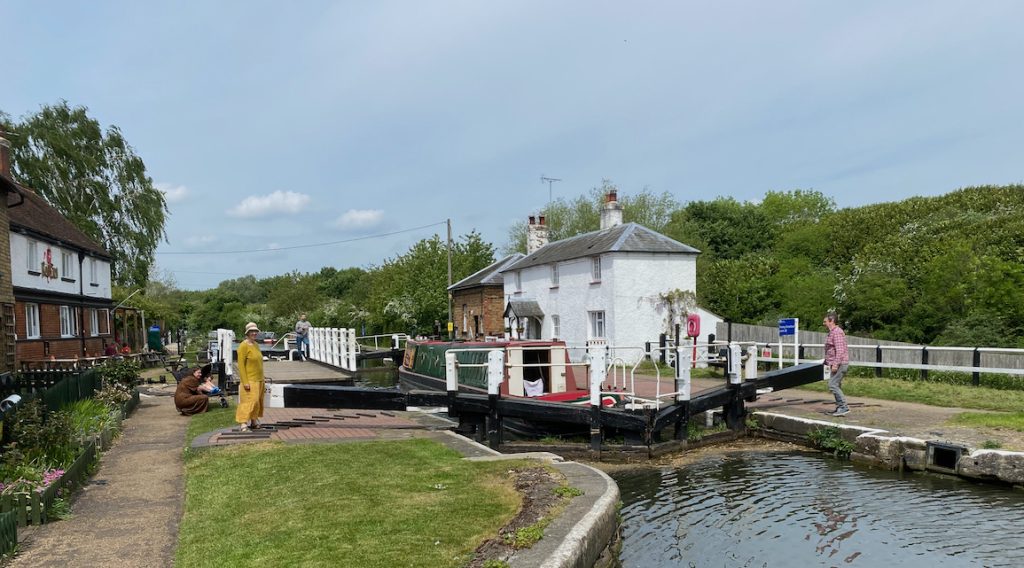 From here the canal starts to climb towards the Tring summit. The pain of sitting had finally gone away, but I'd started to become aware that my right wrist was hurting when I was working locks. My week off work had come to an end and the plan from here had been to work in the day then do a bit of boating each evening. Over the next five days I only covered 15 locks, as far as Cheddington. I decided that a complete break was needed, retrieved the car and stayed put for a few days.
The following weekend, I continued to the summit. I was very glad to see CRT volunteer lock-keepers at Marsworth, who were happy to let me stay on board whilst they turned the locks. After a very enjoyable half day detour along the rather shallow but lovely Wendover Canal to meet up with assorted Waterway Recovery Group friends where were there on a dig, I started the long slow descent towards London.
I was happy to meet friendly passers-by who were happy to push gates, wind paddles and generally assist. I moored in Berkhamsted, retrieved the car and contemplated my next move. I was not sure how much more I'd be able to do on my own, so the obvious thing to do was to find someone to pair up with.
The following afternoon, I waited until a boat appeared (it's amazing how little boat movement there is in this area) and we travelled together through the next series of locks. I was really struggling to do anything at all with my right hand so in fairness to him, as I knew that he was on a pretty tight itinerary, I bailed out after 8 locks.
The following day I slowly made my way to Apsley, where I knew I could safely leave the boat for a couple of days, retrieved the car and headed north to Stoke. I visited the Medical Assessment Unit where I was promptly looked at and told that the problem was tendonitis. In trying to break my fall at The Cape a fortnight earlier, I'd slammed my hand down onto the brick lock side and now it needed complete rest so it could repair. I was given a brace to wear to stop any movement at all while it recovered, which would be a minimum of 6 weeks.
It was 16th May, 11 days before the HNBC gathering. I was 3 easy days boating away and had 4 free days to play with, but really felt it was not going to happen.
To be continued…