I did my first bit of canal boating on the Caldon in 1969 and my family had a boat moored on it from 1973 until 4 years ago, so it's fair to say I know it well. In more recent times I had the privilege of chairing the local canal society for a number of years.
All that said, I rarely bring Bream here. It's not an especially friendly waterway for the single-handed boater, especially on a full length and deep drafted boat. lots of tight bends, blind corners and unexpected shallows. Oh and that (inset expletive) lift bridge. Not Ivy House, that is easy if you're patient. Not even Norton Green, but the other one. More of which later.
Half the Caldon is closed at the moment. I'm told that the canal has been fully open for precisely 5 weeks this year. With the combination of the unplanned (but undoubtedly urgent) stoppage at Limekiln Bank and water shortages across the area, it's really not been a year to come up this way. That said, it finally reopened – with access from the north only – a few weeks ago and is near to family and friends so why not? I try to get a few weeks up here every few years either in May (for the wonderful bluebells on the Leek Branch) or around Christmas, when I like to go to Froghall, though that is not an option this year.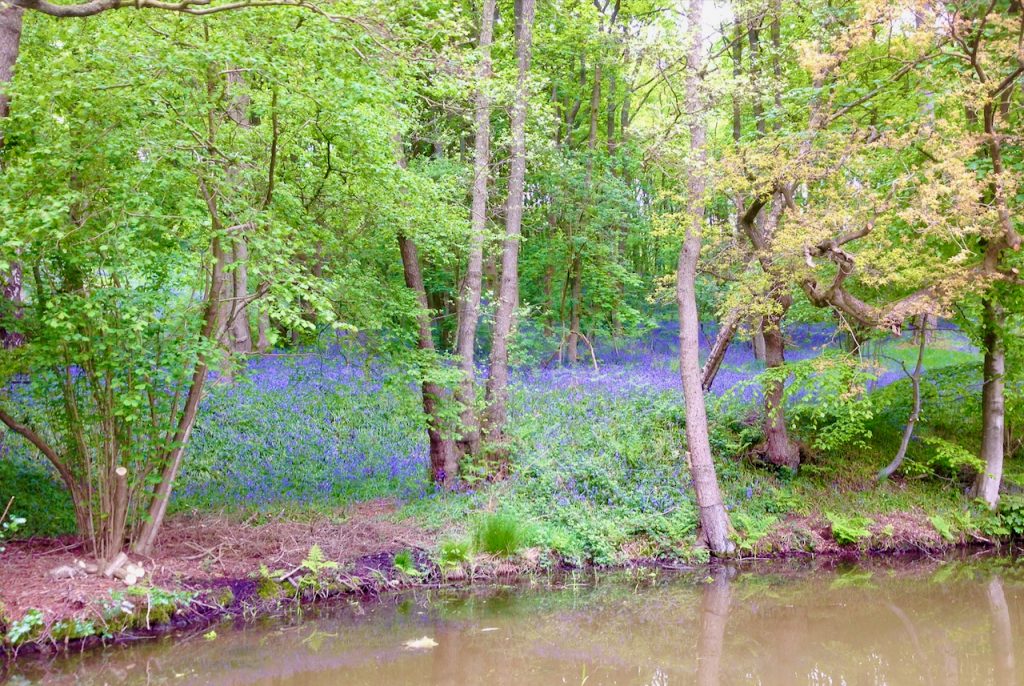 So here I am on the last Sunday of November, 2022, the only boat on the move, turning left off the T&M at Etruria and heading up the staircase locks. The view of the boat more than 20 feet below as you start to fill the bottom lock from the top is never anything less than impressive. Thankfully the gates don't leak like they used to so this is an easy start.
Up from there to Planet Lock. I've still go no idea where the name came from. This lock was added in the early 20th Century to overcome mining subsidence but the name does not correlate with the time any planetary discoveries, so what is it about?
Hanley Park is much improved, I must visit the cafe some time, I've heard good things about it, but it's still not a place I'd choose to moor unless there were other boats around. Maybe another day.
Beyond Bridgewater Pottery we get to the incredibly low Eastwood Road Bridge. It's caught more than a few bits of roof furniture over the years. I noticed something this time that made me smile. All over the country you see canal bridges made with steelwork from "T Shore & Sons, Hanley." A really good example is below Camden Lock, but you will see them all over the place. How improbable that this bridge – very possibly the closest one to Hanley – was made with steel from "Dorman Long & Co, in Middlesborough" !
Past Bridge 15, the nearest one to where I grew up and where we boarded on that first trip over 53 years ago, we head into the country and the aforementioned obstacle.
The first two lift bridges have been electrified but this one is too remote for that. Worse than that, it has nowhere for the single-handed boater to climb off on the non-towpath side, so it's a matter of stopping on the towpath side taking a rope and crossing the bridge, so you can pull the boat once it is up. Worse still I find that it is jammed closed. There is a very faded (painted) message on the bridge deck to not lower it all the way. Unsurprisingly, someone didn't get the message. No matter what I do, I can't get it up. Eventually a friendly passer-by stops and asks what's going on. He is happy to hang off a rope while I wind the hydraulics but that isn't enough to move it. Another passer by offers to wind it while the two of us pull on the chains and up it finally comes. I'm certainly not closing that all the way!
Finally up the 5 locks at Stockton Brook, past the Endon Arm where Wildrose lived and I'm in Endon. I see the half-hearted implementation of an edge-to-edge towpath cut is the same here as on the Trent & Mersey. I'm struggling to believe that this is less than 12 months growth.
So this is home for a couple of weeks. 10 minutes drive from Mum and walking distance from most facilities. Not a bad place to be iced in. But that's another story.