In this fourth section of my review of 2022 boating adventures, I am finally ready to head north from my temporary marina mooring. Shortages of water over the summer had led to unprecedented closures of several canals, with talk of more to follow.
I'd initially booked a month on the marina mooring. I used the time well. I was working from the boat during the week, as normal, but living on the western edge of London, all sorts of places accessible that are normally well out of weekend or day trip range became possible. The Isle of Wight was visited as a day trip. Folkestone, Hastings and the Romney Hythe & Dymchurch Railway were all explored over a rather glorious weekend. Then of course there was London itself, and endless explorations of places I'd never quite got around to before, Alexandra Palace, the Postal Museum, the Thames Estuary, and more. My newly acquired Tate membership got very well used, and not just for the excellent member lounges.
Meanwhile somewhere in the back of my mind, I was becoming increasingly concerned that I wasn't ready to head away. I'd already extended my marina stay by three weeks. The slightest movement of the right wrist was still painful, and it was around three months since my fall. I started to contemplate one seemingly possible outcome, that the injury would never properly heal and my single-handed boating days might be behind me.
An appointment was booked with a physio, who told me the exact opposite of what I'd been told before, and was also exactly what I needed to hear: using it was good, the tendons will have healed as much as they can within 6-8 weeks (this was week 11.) A bit of pain would not now make the original injury worse.
I didn't need to be told twice. A couple of conversations with work and some hastily juggled diary appointments and I had a week or so free to go boating.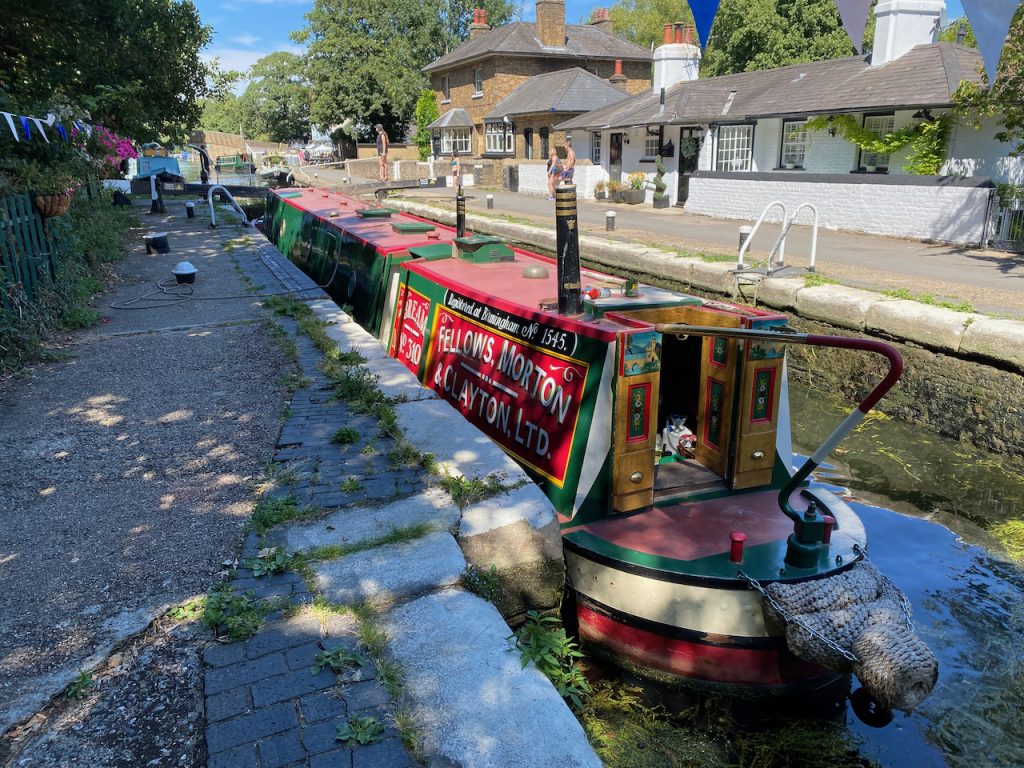 Around lunchtime on 7th August I said my goodbyes and edged out of Packet Boat Marina. I worked my way through Cowley gently and slowly, just getting a feel for it all again. The canal was very quiet, even though it was a Sunday afternoon. By the time I tied up opposite Tesco in Rickmasworth it all felt fairly normal again. I was tired and aching – and not just my hand – but it felt like I would be able to do this.
There was – of course – a bit of a target. There was talk that the Tring summit of the Grand Union was about to close due to the drought conditions, and that the Coventry Canal might follow it. Both were on my route, and the alterative via the Thames and Oxford Canals was reputedly even more likely to close within days. The Trent & Mersey was already closed in Cheshire, as were various waterways in the North West. If I could at least get past Atherstone then I'd be a reasonably flat and long section of water, and back within striking distance of mum in Stoke, wherever I ended up.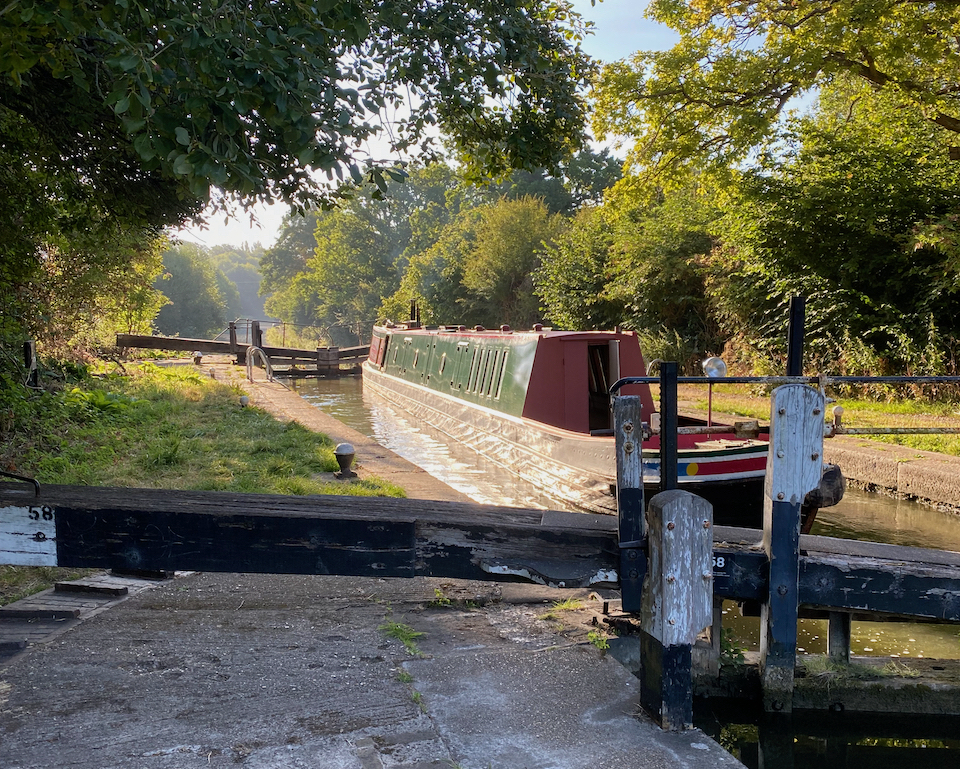 My sister once more joined me for a few days as I headed through bits of Buckinghamshire and Northamptonshire, and I managed to keep to my fairly vague schedule without boating into the night at all. I did however do a couple of very early mornings, as it was cooler and meant that I could pause for breath in the middle of the day, which was welcome relief for the muscles, and from the heat.
I encountered a few very low pounds, one in Berkhamsted was barely passible, but Tring was less challenging than I had expected. I only really came unstuck following a very early start at Stoke Bruerne. I'd moored two locks down from the summit and when I got up at 6am the pound between the top two locks was well down. I went to the top and ran what looked like enough water down, even though it was still low. I then worked up lock 2 and gently headed out into the pound. Perhaps inevitably I stuck fast in the middle. I couldn't move back or forwards, water was clearly leaking out more quickly than it was coming in.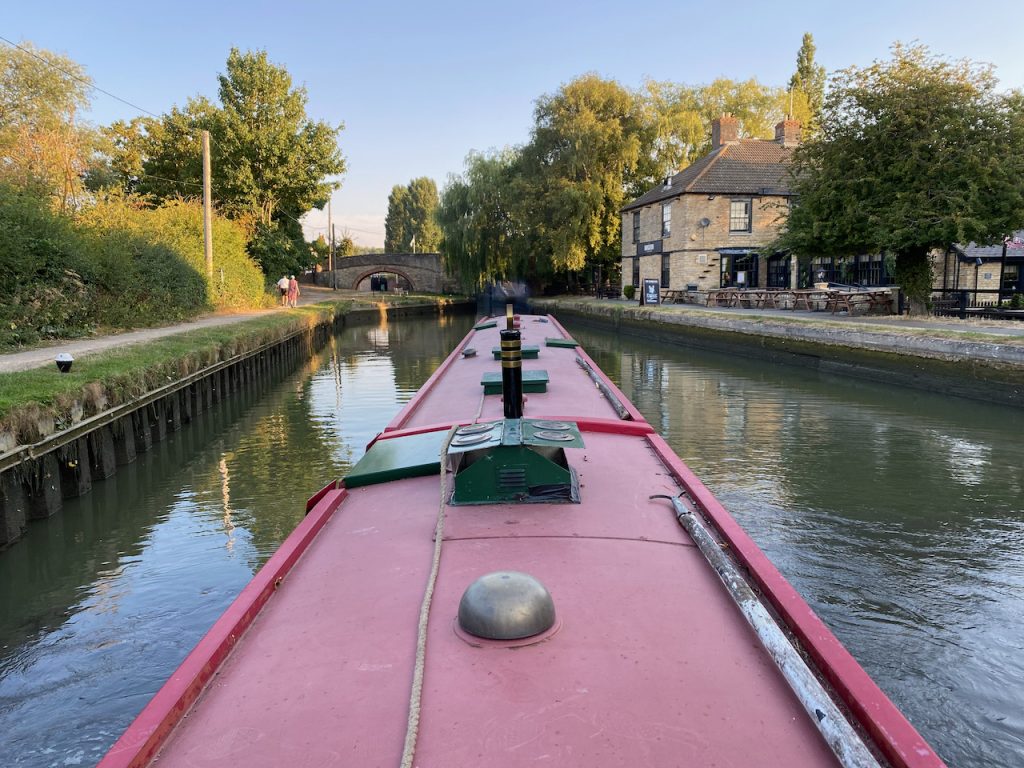 Thankfully, it was now nearly 7am and I was soon happy to see a familiar face wander towards me. Mike was out for an early morning walk before his trip boat duties. I threw him a windlass and he was able to run water down from the top. It was lovely to see him, and have a bit of a chat, as he joined me as far as the tunnel mouth.
Thankfully that was as dramatic as it got. The Coventry Canal was horribly low – it was strange to see Sutton Stop Lock with a 1′ fall instead of the usual couple of inches, and I dragged along all the way to Atherstone at tickover, losing maybe half a day on my schedule.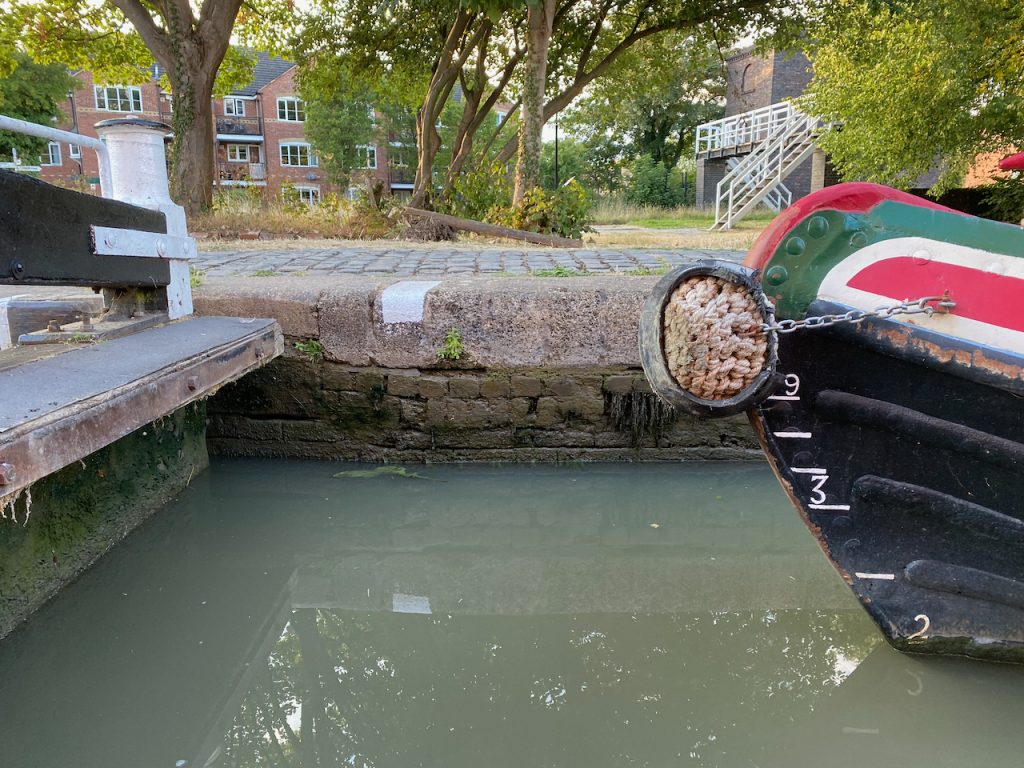 After the weeks of hot dry weather that had given us drought conditions everywhere, the rain arrived around 8pm on the 16th, as I was half way down Atherstone Locks. I was soaked to the skin, but it wasn't an unpleasant feeling! More importantly, I had made it back to the midlands, and would not encounter water shortages again for the rest of the year.
To be concluded…